About Burial at Sea San Diego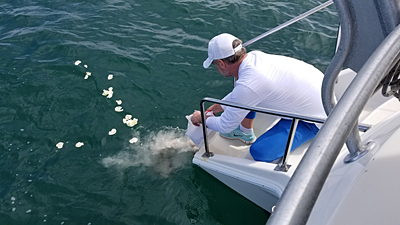 Burial at Sea San Diego offers convenient and an economical way of spreading ashes at sea of a loved one at sea.
Cremation is an increasingly popular alternative to traditional funeral and burial, and releasing ashes to the wind, the waves and the ocean currents is a simple and dignified means of returning to the Earth.
Ash scattering at sea of a loved one in San Diego is an awesome way to have the entire family spreading ashes at sea and sending a loved one off on their celestial voyage.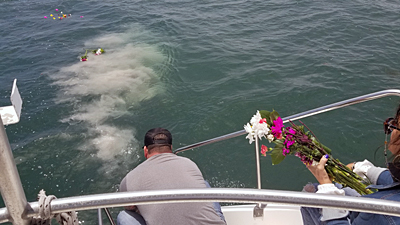 With over 20 years on beautiful San Diego Bay and the waters surrounding the San Diego harbor and Sunset Cliffs, we excel at ensuring each ash scattering at sea is a memory you will cherish for a lifetime.
Enjoy breathtaking views of downtown, the naval base, the latest aircraft carriers, destroyers, and submarines, not to mention an abundance of sea life including Sea Lions, Dolphins and Whales.
Whether you need a classic sailing yacht or a luxurious motor yacht for your ash scattering ceremony at sea, Burial at Sea San Diego can provide a private yacht for friends and family. Call Burial at Sea San Diego to plan your special ceremony today.
Burial at Sea San Diego features three types of yachts.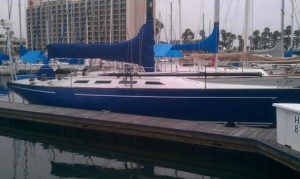 Our sailboat is a classic restored 1973 Ranger 37 racing sailboat named Masquerade. This 37′ yacht was known as "The Rocket" back in her day due to her lightening speed and innovative hull design.
Much heavier than traditional boats today, Masquerade will provide a steady, smooth sail no matter what the conditions.
Was your l,oved one a sailor or enjoyed racing sailboats? Then this is the perfect way to spread a loved one's ashes at sea. Each burial at sea is unique and ashes scattered at sea is a special way to say good bye.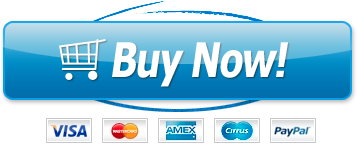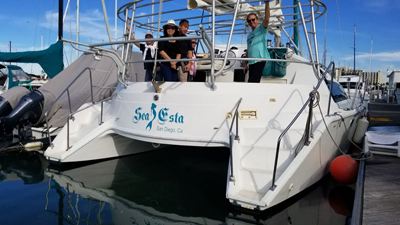 We have also added a fantastic new 32′ sailing catamaran for your harbor excursions should you feel the need to bring more friends and have a stable, fun, and relaxing wake. This catamaran is roomy, stable, and can fit up to 10 guests for a remarkable ash scattering ceremony.
This catamaran can be used for private burials at sea where your guests may want something a little larger and more stable if they have worries about being sea sick. We take the time to insure your wake is perfect.
Built on twin deep-V hulls with a solid round cresent shaped party seat, fiberglass bottom, two-stateroom interior, and a bar area for guests, this catamaran offers comfortable accommodations for six, eight, and ten persons.
This beautiful catamaran affords plenty of room for everyone to enjoy a beautiful heart felt farewell.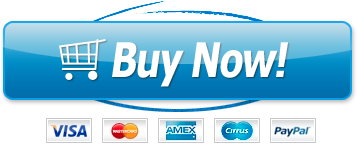 Need to accommodate a larger party?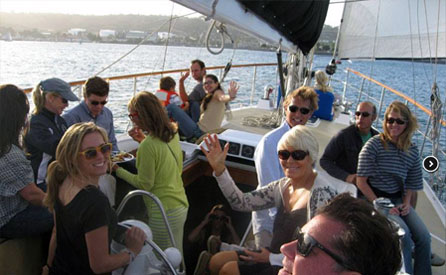 Our 55-foot custom designed steel hull twin masted ketch is stable and strong, yet sleek and smooth at sea.
Along with Captain Jack and our crew, we welcome you to take part in hoisting and trimming the sails, steering through the entrance of the bay, or sit back, relax, and soak up the sun and scenery.
Our Three hour excursion is just right for enjoying the views of the city of San Diego Bay and the the ocean beyond.
We specialize in LARGE GROUPS and PARTIES!
Let us custom design your special occasion cruise for your group of up to 27 guests. Our 55-foot custom twin masted sailing yacht - (Up to 27 persons) Includes Captain, Crew, Snacks, and water. You can BYOB your own food and Alcohol on all of our yachts.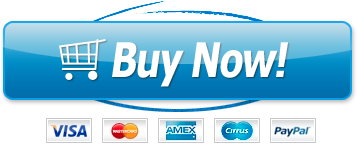 What to Bring
Sometimes it can get a little cooler on the water, so dress in layers and there is plenty of dry storage for bags or back packs. We prefer soft non-black soled shoes. We provide complimentary water, and light snacks. You're welcome to bring your own camera and video equipment to memorialize your event.
Sailing in Winter, Spring and Fall:
Sunscreen
Sunglasses with croakies (leash)
Rubber-soled deck shoes or sneakers and warm socks.
A warm jacket or preferably sweater and windbreaker
A pair of long pants if you are wearing shorts
Sailing In July thru Sept:
Sunscreen
Sunglasses with croakies (leash)
Rubber-soled deck shoes or sneakers.
A light sweater or windbreakers.
Download our Burial at Sea Whitepaper here
Make your reservation today!
Call Us Today: 619-887-5443
Want to go sailing?
Enjoy San Diego's #1 sailing charter on beautiful san diego bay
visit our sister site Pacifica Saling Charters.com